CAMI THOMPSON VOCAL STUDIO
GOTTA SING? GOTTA BREATHE? GOTTA SPEAK?   CAMI CAN HELP!
[NOTE: New students sign-ups are not available until January]
Contact info:    Cami  @   Cami  Thompson .  com   (775)  830 . 2264
(Remove spaces in my e-address to email me - I'm trying to avoid hackers and scammers!)
Discover your strongest, healthiest, most expressive voice!
Strengthen, expand, & increase the power, range, breath, breadth, & emotion of your song!
Hi! I'm Cami. I've been singing professionally for over 45 years, all across the Western US (plus a few extra states) and around the world, mostly as a jazz singer, but also in musicals, operas, production shows, Rock, R&B and soul bands, and recording. I am a trained classical singer who prefers to sing more freely, and I'm also a musician (piano/percussion), songwriter, composer, arranger, bandleader, and vocal/music director for local theaters in Reno. Along the way I've been teaching and coaching singers and actors for over 40 years, and can help you develop the voice you want, and help you prepare for auditions, shows, musicals, public speaking, concerts, club dates, and personal and professional goals. My focus points are on breath work, understanding the mechanics of the voice, speech-level technique, vocal health, interpretation and presentation, clearing mental/emotional blocks, and performer wellness. I also coach acting, personal stylization, and jazz improvisation, and can instruct in basic musical knowledge like sight reading, piano, transcription, and songwriting.  
Here is the general outline of my teaching style and intention:
* Develop correct, powerful BREATHING from the core of your diaphragm
* Understand the FOUR MECHANICS of the Human Voice
* Increase your vocal RANGE, DYNAMICS and CONTROL
* Improve the QUALITY, TONE AND EXPRESSION of your voice
* Learn techniques to REDUCE STRESS AND FEAR onstage, at auditions, in school
* Look at past experiences than have been negatively affecting your self-expression and let them go!
* Discover your OWN UNIQUE SOUND and make it more musical
* Get ADVICE AND KNOW-HOW on the opportunities in the MUSIC BUSINESS
* Learn MICROPHONE TECHNIQUES for studio work and live performance
* Learn to re-acquaint yourself with your ARTISTIC CREATIVE SELF!
* Gain CONFIDENCE in all that you do — singing, speaking, living!
* Gain SELF AWARENESS, SELF-EXPRESSION, SELF-ESTEEM. SELF-ACCEPTANCE
* Get help, SONGWRITERS, with your writing and compositions
* Learn how to create PROFESSIONAL MUSIC BOOKS for band, choir, lyrics, shows
I look forward to working with you!
* GIFT CERTIFICATES AVAILABLE!  Make a great Birthday or holiday gift! *
CONTACT INFO:      EMAIL  Cami  @  Cami  Thompson  .  com   or   CALL  [77 5] 8 three 0 - 22 six 4
(Written this way to thwart scammers! Just remove all spaces to contact me by email, or adjust the phone number! )
LOCATION:  RENO, NEVADA: Lessons take place in a private home studio in SW Reno. 
~~~~~~~~~~~~~~~~~~~~~~~~~~~~~~~~~~~~~~~~~~~~~~~~~~~~~~~~
A SHORT BIO ABOUT CAMI THOMPSON:
I am a professional singer, actor, songwriter, composer, arranger, teacher, director, band leader, recording artist and producer with over 45 years of professional experience on stage in concert halls, theaters, jazz clubs, cabarets, nightclubs, and schools around the world. I have performed at hundreds of jazz festivals across the USA and Europe, have had lead roles in over 60 musicals, have been a clinician and adjudicator at schools and music festivals across the Western US, and have been a vocal and music director for the past 18 years. I'm a classically trained vocalist and musician in jazz, R&B, rock, pop, soul, theatrical, opera and Broadway music, and have successfully taught hundreds of students privately and in clinics for over 4 decades throughout the western US and Europe.
LESSON RATES:
Introductory Session: 90-100 minutes - $80
After that, lessons are usually 60-65 minutes, $60 each
I accept cash, checks, credit cards, Venmo, and Zelle.
PACKAGE DEALS!  NEW 2023 RATES!!
 This is a good way to keep you motivated to practice, and provide you with some savings. And it's easier to manage your payments – no need to worry if you forget to bring your payment. 
5 one-hour lessons package = $285 ($57 per lesson = save $15)    These 5 sessions take you through the 5 important systems of singing: The 4 Mechanics (Breath Support, Connection, Resonance, Articulation), Pitch and Intention. 
10 one-hour lessons package = $560 ($56 per lesson = save $40.00)    A more intensified program of the 5 systems, developing more skills.  This rate is the lowest in the area, and meant to encourage you to learn how to sing better.
15 one-hour lessons package = $800 SPECIAL ($53.33 per lesson = save $100!)    This is a great program for fast-tracking for singers, actors, and speakers who are working toward professional goals. Gain knowledge, mastery, control, beauty, connection, and freedom with your vocal instrument in less than a year.
PACKAGE RULES:  
Another benefit if you buy a package - there is no penalty if you need to cancel your lesson up to 24 hours before your time slot, as it is already paid for. We just need to set up another time. But please give me as much notice as possible so I can book someone else.
Cancellation penalty fees under 24 hours:
If you have to cancel between 24 to 12 hours before your session, you will have to pay a $20 penalty at the start of your next lesson to continue.  

If you have to cancel between 12 and 4 hours before your session, you will have to pay a $30 penalty at the start of your next lesson to continue, as I might not be able to cover that session time.

If you have to cancel between 4 hours and 1 hour before your session, you have to pay a $45 penalty at the start of your next lesson to continue, as I will not be able to find someone to fill in your session time.

If you give no notice (no-show), you will lose that lesson, and you will need to verify your next session. 

But…  If you HAVE to cancel due to a prove-able emergency, I may consider reducing or cancelling the penalty. Just don't lie to me.
Cami's Reno Office Studio…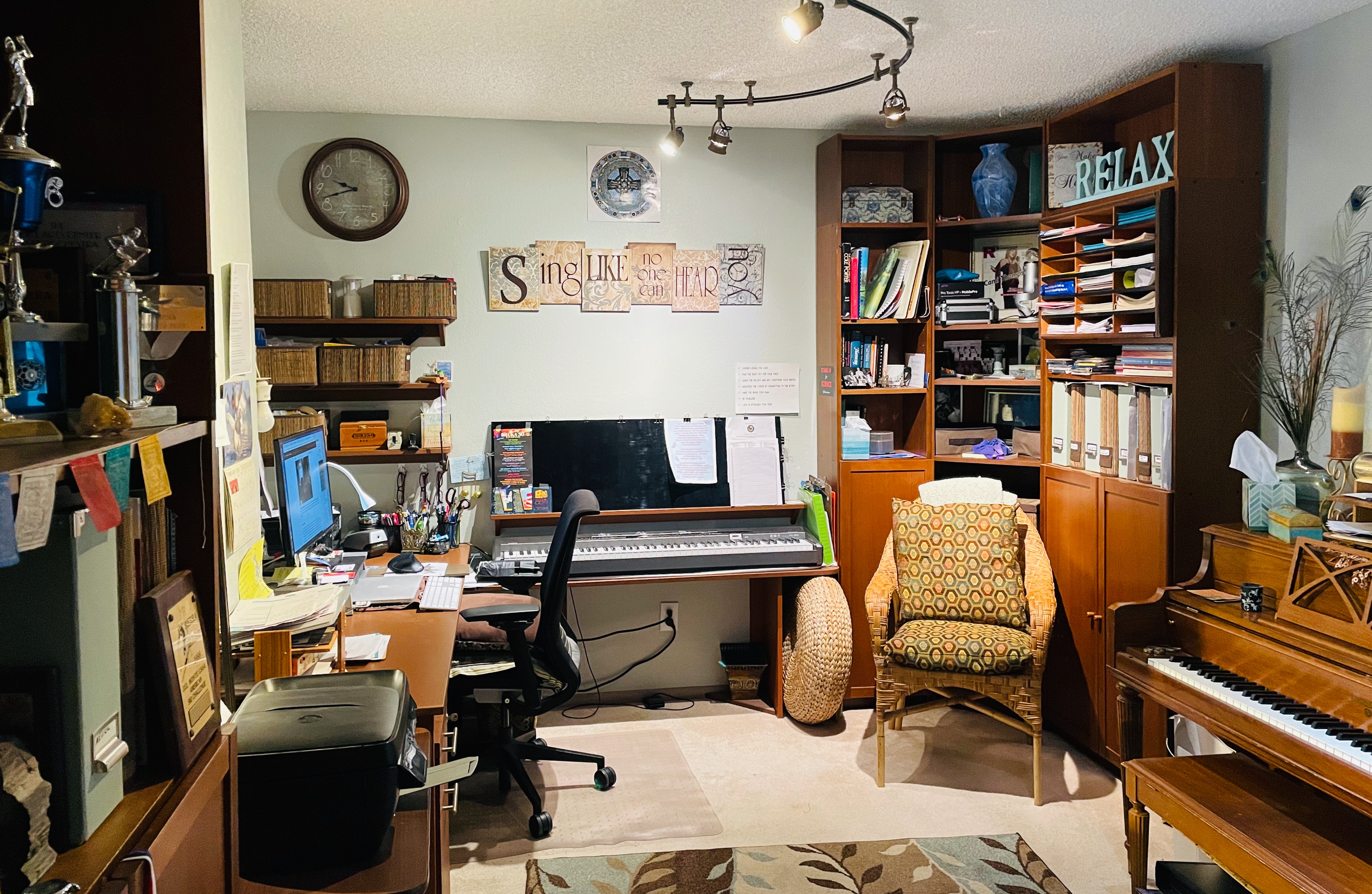 RECORDINGS/PRACTICE: 
I encourage my students to record their lessons and practice exercises daily to develop powerful breath control and vocal strength. It is preferable that students record their lesson on their own device. If that is not possible, I will record your lesson in segments on a digital recorder, transfer those various tracks to my computer and email or DropBox them to you. There may not be enough time to send them between students, but I will send them to you at the end of sessions that night, or within 24 hours.
Special lessons can be designed for the student's specific needs: control, power, confidence, courage, wellness, Musical theatre auditions and shows, TV show auditions, college applications,  jazz stylization (scatting, phrasing, song selections), weddings, family events, personal growth, spiritual awareness, just want to sing -- no dream is too small or too big!... 
I want you to LIVE BETTER, FEEL BETTER, and SING BETTER! 
WHAT TO EXPECT:
In my affordable sessions, first we get to know each other in a 90- to 100-minute Introductory Session - so I can understand your desires, goals, and needs, your strengths and weaknesses, your past experiences, and your challenges. Then you will sing a short song for me to evaluate HOW you sing (not how well or how bad, just HOW you use your voice.) Once an evaluation is made, we go into my studio where I can explain how you can improve your own unique vocal abilities with a series of exercises. Then the training session starts - first guiding you through an explanation and understanding of the Four Mechanics of the human voice.   
Once you understand the idea of HOW to sing correctly, then we start on the floor… where you will lie down on a blanket with a pillow, and start to explore the natural power of Breath… and we start our work with a couple of my unique breathing exercises, helping you to develop the First Mechanic of singing: 1. Breath Support and Control - for a powerful, supported and healthy production of sound.   And that's your first session! 
In the sessions that follow, I continue by explaining and exploring a series of lessons connected to the First Mechanic, Breath Support and Control -  this will help you learn to develop control over your breath via the abdominal muscles (not the diaphragm!), in order to control and eventually master the other Three Mechanics:      
2. Discovering Connection -  with your breath to your vocal cords, without hurting or damaging them, using relaxation and stretching techniques to calm, relax, energize and allow  your larynx to do its wonderful thing;          
3. Finding your Resonance -  through vocal techniques and exercises that help you discover how the sound of your voice is completely unique - out of over 8 billion people on this planet, NO ONE has a voice like yours!  You will learn where to "place" the various resonances of your vocal sounds - especially important for musical actors! - and discover what sound pleases you the most and gives you the tone you are seeking as well as the projection.    
4. Developing Articulation - realizing how many muscles in your mouth, tongue and neck it takes to speak and sing will help you understand how to train these muscles through series of exercises - to sing words with clarity, rhythm, speed, interpretation, intention and emotion.
Once you fully understand how these 4 mechanics work and how to develop them, you are ready to move on to higher levels of vocal improvement. Lessons are then tailored personally to your talents, desires, goals, interests and intentions. See the list at the top to get an idea of all the ways this work can help you you develop your voice!
WHY DID I CHOOSE TO TEACH:
Many of these techniques were taught to me by various voice teachers throughout my late teens/early 20s. But most of my other techniques - the ones I have been teaching for over 40 years - were self-taught. Some were developed out of wanting to help other singers/actors; others were to help me sing better, and save my own voice!
A little history… in 3rd person… because its easier to explain…
Born into a musical family, Cami started singing at birth -  and never stopped! (Well - almost never!) She sang and performed at church, at school, in the yard, and with her sisters and parents ALL THE TIME! The three sisters acted out every single record of Broadway musicals they could get their hands on until they wore them out - or broke them!   Cami  started piano lessons at 6 and continued through college. By 12 she had learned to sight-read every vocal part of the church hymnal - from soprano to bass - while her mom played piano and organ. She and her sisters sang with their dad at every event and party in town. She had started writing her own songs at 10, but was too shy to share them with anyone but her close friend. But her biggest thrill and greatest learning curve was getting her own record player and listening to her heroes every evening after doing her homework - Barbra Streisand, Ella Fitzgerald, Sarah Vaughan, Dinah Washington, Betty Carter, Carole King, Aretha Franklin, Diana Ross & The Supremes, Tina Turner, Carly Simon, Janis Joplin, Al Jarreau, Tom Jones, Nat King Cole, Andy Williams, rock bands, progressive rock, soul music, musicals - whatever she could get her hands on and sing along with!  
In 1975 at 17, her mom Norma asked Dr. Ted Puffer, the producer and director of Nevada Opera Company and head of the Vocal Department at UNR if Cami could please audition for him. He said she was too young. But Norma was on the board of the Opera company, and she believed 100% in Cami's vocal abilities. So she kept asking. After a few months of nagging Dr. Puffer finally gave in, and Cami came to his house and auditioned, sight-read an aria, and won him over. She became the only high school student to take voice lessons at UNR through the Nevada Opera Company, and the youngest singer in the Nevada Opera Chorus.  
For some dumb reason, in 1976 she went away to Colorado College to study International Relations. That didn't last long as she soon discovered the music and theater programs there, and changed her schedule to fill it with those classes, and worked with a great classical voice teacher there!  But Cami didn't feel like she fit in there; she missed her family and friends and home, and after the end of her first year at CC she came back to Reno - to ski, and sing in her high school friends' newly-formed jazz-rock band, and study music at UNR.  In the Spring of 1978 she heard about the Theater department at UNR, and built up the courage to audition for the replacement of the role of Mary Magdalene in the musical  "Jesus Christ Superstar" for a tour of Nevada High Schools. She got the part, and then the USO/DOD chose the show to tour US military bases across SouthEast Asia for 2 months in the Fall. Quite the adventure! When they returned, Cami started working - at lots of gigs, and toward her degrees in Music and Theater.
1978-80 - Between musicals and Operas, Cami would play in Rock, R&B-Soul and Jazz bands, working for 4 to 5 hours a night, 4-6 nights a week. When she was doing musicals, she would rehearse or perform until 10 -10:30pm, grab a bite, then go work a late-night casino shift gig, singing until 4 or 5 in the morning, go take a nap, then go to classes at UNR. In her leading role in "Mame" at UNR, the director kept pushing and pushing Cami to sing louder as the 16-piece orchestra was drowning her out - no body mics in those days!  She was starting to get hoarse. In the 70s and 80s, smoking was allowed in bars, nightclubs and casinos, and this ended up being an extra bad thing for Cami. So… along with 1) not getting enough sleep while going to school-rehearsals-shows-gigs, 2) pushing too hard and loud in musicals and operas, 3) singing loud over rock bands without monitors, 4) coughing too much from wrongly-diagnosed "laryngitis" due to all the smoky venues, 5) continually clearing her throat from coughing, 6) chronic fatigue syndrome, and 7) not being taught how to BREATHE correctly… in late 1980 Cami started really losing her voice!  
After many visits to many different doctors who didn't know what was wrong, at the age of 22 Cami was finally diagnosed by an E.N.T. doctor in Reno with the worst news - vocal nodules, a type of callus that forms on the vocal cord (both in her case) from too much stress damage in one particular area of the vocal cord - the pitch where Cami often belted in her theatrical roles, blues, and Janis Joplin impersonations. The nodes were so thick and inflamed Cami was often barely able to speak.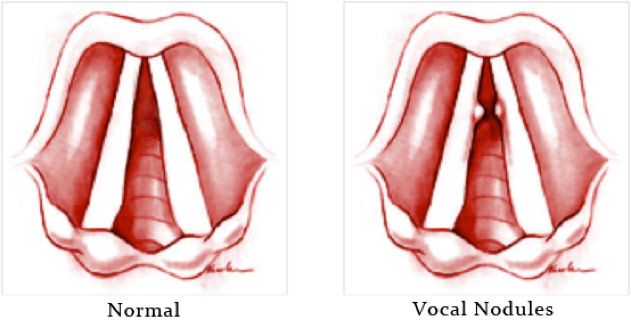 The only advice the doctor could give at that time was…  to stop singing for a year or two. 
A YEAR OR TWO!
This was heart-breaking news! Cami was starting to get a lot of publicity, and was being asked to perform for special events - that finally paid well!  But all this had to be put aside.    After taking a 3-month-long break from singing, then traveling for a few months with her mom to every hospital on the West coast that might have a doctor to find an answer to cure this, Cami's mom went to see another ENT doctor (who happened to be a fan of Cami's!) He said he loved her voice, and thought she should go to Broadway, and would do everything he could to get her singing again.  He researched for weeks, reading about previous nodule treatments and surgeries, and talking with doctors all across the country.  He found that other than 18-36 months of complete vocal silence (like Bjork did), laser surgery was the only other option. No one in the area had ever done this procedure, and there were many cases of failures due to the laser - permanent damage from slicing or severing a vocal cord (like what happened to Julie Andrews), burning a hole in the back of the throat, laser burns not healing, nicking an artery with the beam….  
About a month later this doctor met with Cami and her parents to discuss the options: do nothing and let the vocal cords heal in a 1.5 to 2.5 years, or risk the surgery - that had destroyed a few voices, but had made great successes across the country as well.  After talking it over with Dr. Ted Puffer, her voice teacher and her family, they decided to go with the surgery - because by then the ENT doctor had found a Laryngeal surgeon who would come to Reno to handle the laser surgery, which he had done 5 times already with only 1 small burn - that healed. The surgery would require 10 people in the room - 1 lead surgeon, 1 backup surgeon, 2 ENT doctors (to study and take notes), 3 technicians to place the protective barrier at the back of the throat and to direct the laser beam two times, 1 laser programmer, and 2 anesthesiologists to slow down the heartbeat as much as possible, and drop the breath down to 55 seconds so as not to get in the way of the "freaking laser beam".
In early 1981 Cami underwent a dangerous but miraculous 5-hour laser laryngoscopy surgery to remove the two calluses. It was a successful removal, but it required a slower healing time back then - 3 months of COMPLETE silence to heal the laser burn scars; then 3 months of gentle speech therapy to start vibrating the vocal cords in a very careful way;  6 months of working with a new gentle voice teacher who helped Cami find her breath support. She finally understood how to control her powerful voice, and went on to seek out other ways and techniques to improve breath control, breath support, and ease of sound production. 
FYI - The process of removing vocal nodes/nodules these days is a simple 30-minute procedure with a very small, accurate laser beam that enters through a hose down the sinus to the top of the vocal cord. Most singers with this surgery are back onstage in 2-3 weeks. 
Encouraging students to take care of their voice is top of her list of being a good teacher. Unfortunately, she didn't put own her voice on the top of that list - she started getting nodes again in 1994. After years of living and working in Europe in the mid-80s (England, France, Holland, Casablanca, Germany), in Washington DC (1988-89), in LA ('90-'94), singing for 3 years in the Grammy-nominated L.A. JAZZ CHOIR ('91-'94), recording her first album('92), touring with the famous 7-piece Mike Vax jazz band (1990-2010), gigging steadily with her own band at clubs and festivals and concerts… she finally had to take a short break from singing in Summer of 1995. During those 2 years before, she practiced using her old vocal lessons, worked with a vocal coach, made up new exercises to use her voice more easily, practiced warm-ups more, and created new breath exercises for herself. She managed to sing more carefully until she felt the nodes starting to diminish. Then she stopped singing for about 2 months, but continued with gentle vibration techniques to re-program her vocal cords. Soon they were back to normal, and she started a new job in San Francisco in late 1995, singing 6 nights a week in a fancy supper club on a big stage with a white grand piano in a 10-piece jazz band! Her voice remained healthy and strong - though there were few gigs and no teaching going on! - until her first battle with COVID in May of 2022. She has since been struggling with a persistent vicious cough, a bout of RSV in December, and recently - a second round of COVID!  
Her intention now is to get back to teaching so she can also heal her vocal cords while she helps others find their true authentic voice - practicing with you using her vast library of information, expertise, techniques, exercises, compassion and Love.  You will be able to create your own powerful, dynamic, and sustainable voice using a system of constantly expanding information that has helped hundreds of students create a strong, healthy voice they love, and love to share!  Studying with Cami will help you find your voice, understand how it works, learn to control your breath (the foundation of vocal production), and teach yourself to support your wondrous self!   With a lifetime of unique experiences, stories, great adventures, multiple successes, a few failures, good fortune, heartbreaks, joy, patience and tenacity - Cami can be a great guide for wherever you wish your vocal journey to take you.  
<><><><><><><><><><><><><><><><><><><><><><><><><><><><><><><><><><><><>
Contact her through email or phone!
CONTACT:  Email  CAMI(AT)camithompson.com  or CALL  [775] 8 three zero - 22 six 4
(written this way on purpose to thwart scammers!)
~~~~~~~~~~~~~~~~~~~~~~~~~~~~~~~~~~~~~~~~~~~~~~~~~~~~~~~~~~
FYI - Famous Singers Who Have Experienced Vocal Nodules
Here are some beloved voices that were silenced due to vocal cord damage and/or injury. Most were able to recover after rest or surgery and get back to their singing careers.
Adele: Vocal hemorrhage canceled a tour, had surgery.

Julie Andrews:

Throat nodules, and reportedly, further damage due to surgery to remove them. Permanent damage ensued, ending her singing career.

Björk:

Vocal nodules, spent three years doing special vocal exercises, so as to avoid surgery.
Mariah Carey: Vocal nodules.

Roger Daltry

(the Who): Precancerous growth on cords.

Natalie Dessay:

Vocal nodules, had surgery.
Celine Dion: Weakness in vocal cord due to a viral illness.

Lesley Feist:

Unspecified vocal cord damage, took a six-month hiatus, eventually changed her singing style.
Whitney Houston: Vocal nodules.
Elton John: Vocal nodules, had surgery, his voice was noticeably deeper afterward.

Shirley Manson

(Garbage): Vocal nodules.

John Mayer:

Vocal granuloma, canceled tours and took a two-year break from performing, had surgery.
Freddie Mercury: Vocal nodules.

Frank Ocean:

Vocal tear (or bruise).

Luciano Pavoratti:

Vocal nodule, he decided to give up singing as a result, but soon recovered, and so resumed his career.
Frank Sinatra: Vocal nodules, took a month-long vow of silence.

Paul Stanley

(Kiss): Unspecified vocal injury.
Rod Stewart: Vocal nodules.

Joss Stone

: Vocal nodules.
Justin Timberlake: Vocal nodules.

Steven Tyler

(Aerosmith): Burst blood vessel on vocal cords, out for 6 months

Keith Urban:

Polyp, had surgery.