"BY REQUEST" (2000)
"BY REQUEST" CDs are BACK IN STOCK!
Cami's most popular album of Great American Classics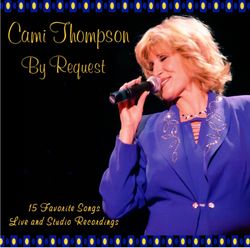 This exciting CD showcases Cami's powerful stage presence as 10 of the 15 songs are from a live 1996 concert appearance with her 7-piece band in her hometown of Reno, Nevada. They were digitally recorded on 16 tracks, and remastered using state-of-the-art computer technology for a rich, dynamic presentation of American masterpieces by Cole Porter, Gershwin, Ellington and others. Cami also created 4 powerful, passionate studio recordings with a big band to complete the list of her most requested songs.
Total time: 71 minutes.
Purchase safely and securely through PayPal...
Available on CD, and for Digital Download at iTunes Store
SONG LIST: 1. Sing Sing Sing 2. I've Got You Under My Skin 3. Night And Day 4. Route 66 5. More Than You Know 6. I'm Beginning To See The Light 7. All Of You 8. It's All Right With Me 9. The Man I Love 10. Don't Rain On my Parade 11. Bye Bye Blackbird 12. My Funny Valentine 13. Boogie Woogie Bugle Boy 14. Over The Rainbow 15. Live Bonus Track: One Note Samba
Please visit the link to CDBaby.com below, or visit your favorite digital music store to buy songs or the CD.
DIGITAL: Buy "By Request" or songs from it on Apple iTunes:
_
"NO MORE BLUES" (1993)
"NO MORE BLUES"
Cami's 1st studio recording, featuring Jazz Standards and Originals
 CDs ARE SOLD OUT!  AVAILABLE IN DIGITAL FORMAT ONLY!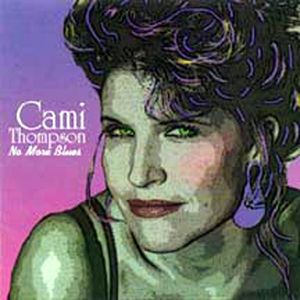 AVAILABLE AT iTunes! (Click here: iTunes Store ) and all Online Music sites
An impeccably recorded studio album, created in Los Angeles in 1993. Co-produced by Cami and Lizabeth Rogers. Over a year in the making, it features 5 of Cami's originals (blues/ torch/ ballad/ contemporary) plus 7 jazz classics arranged in her own unique style. Swing, scat, blues, ballads, torch, latin jazz, and gospel. It's what you'd hear if you saw Cami at a live club date!
Piano: Benjamin Dowling, Bass: Larry Steen and Ben Grey, Drums: Jack Kurtz Guests: Guitar: Vince D'Onofrio, Sax: Brandon Fields and Robert Kyle
@110 minutes
SONG TITLES: 1. No More Blues 2. One Touch of Heaven (original) 3. I Just Want To Be Loved By You (original) 4. Rhythm in My Nursery Rhyme 5. Sneaky Suspicion 6. Broken-Down Kitchen Blues (original) 7. Autumn Leaves 8. Two-gether (original) 9. There will Never Be Another You 10. Skylark 11. I Like the Way You Do Your Thing (original) 12. Way Over Yonder
DIGITAL: Buy "No More Blues" CD or songs from it on Apple iTunes:
DIGITAL: Buy this CD or songs from it on PayPlay:
"SWING! SWANG! SWUNG!" (NEW!) 2010
"SWING! SWANG! SWUNG!" with The Reno Jazz Orchestra
Finally - a Big Band Swing CD where Cami soars!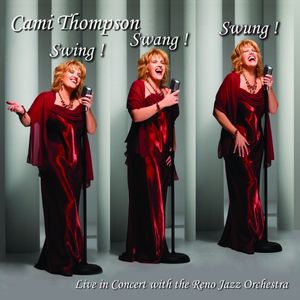 This project began as a concert recorded by engineer-musician Guy Kowarsh on February 6, 2006 at the Atlantis Casino in Reno NV. The event was "A Note-Able Evening of Romance", a benefit for the Note-Ables, a nonprofit organization providing music programs for children and adults with disabilities. Over the next four years, Guy would occasionally call me to do something with what he thought was a potentially great CD. I had my misgivings, displeased with my performances, but I decided to give it a shot. I had no idea how much work it would take, re-recording my vocals to perfectly match the originals, to get the quality I wanted. Nor did I know how clever and innovative Guy was, nor how wonderful the music would turn out. What a great surprise! Guy Kowarsh is a genius, editing, mixing, and mastering these 14 songs into a seamless CD. So have a listen - it's like hearing a powerful, passionate, swingin' big band concert in your living room!
SONGS:  1. Come Back to Me   2. I'm Beginning to See the Light   3. When I Fall in Love   4. Taking a Chance on Love   5. Caught a Touch of Your Love   6. The Nearness of You   7. Quiet Nights of Quiet Stars   8. I've Got the World On A String    9. Skylark   10. All of Me   11. Blue Moon   12. Route 66    13. Almost Like Being in Love   14. It Don't Mean A Thing
Purchase Digital at Itunes
"AN EVENING WITH CAMI" (2003)
"AN EVENING WITH CAMI"
The night that started her recording career!
A Live Concert recording of Cami singing Jazz, Blues, Comedy, Originals, Broadway, and more with her 6-piece Reno band!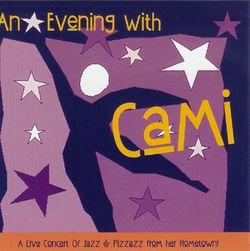 Originally released in 1992 on cassette only, this release of an exciting live concert performance has been digitally remastered, edited and produced by Cami's manager/producer Lizabeth Rogers, and is now available on CD. The concert features Cami at her best, in front of a hometown audience with musicians she grew up with, singing her heart out in songs that reflect her talent, soul, passion, and witty humor.
SONG TITLES: 1. Lay Down Your Burden/ Common Ground 2. There Will Never Be Another You 3. Skylark 4. It Don't Mean A Thing 5. The Dream of Icarus (original lyrics) 6. Rhythm In My Nursery Rhyme 7. One Note Samba 8. Mr. Paganini 9. Embraceable You 10. You Are My Sunshine ( with family ) 11. If He Walked Into My Life (from "Mame") 12. Twogether (original) 13. I Just Want to Be Loved By You (original) 14. I'm Tired (from "Blazing Saddles") 15. I Got The Sun in The Morning 16. Being Alive 17. Over The Rainbow
"CAFE' CAMILLE" (2003)
"CAFE CAMILLE" - Where Torch comes to Life!
Live at Caffe Giuseppe, Los Angeles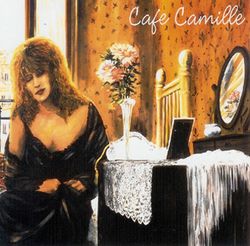 Cami's 5th album is a collection of torch, blues and jazz songs recorded live during 10 months of club dates at the Los Angeles night club Caffe Giuseppe during 1993 with her wonderful jazz trio. The DAT recordings were mastered and produced by her friend and personal manager, Lizabeth Rogers, over a 3-month period with much time, love, patience and deliberation. Backing Cami in a variety of styles are Benjamin Dowling on Piano, Larry Steen on Bass, and Jack Kurtz on drums, with guest artists Robert Kyle and Irv Cox.
SONGS: 1. It Isn't So Good, It Couldn't Get Better 2. Get Here 3. Angel Eyes 4. Why Don't You Do Right, Baby 5. Lover Man 6. My Funny Valentine 7. Good Morning Heartache 8. Watermelon Man 9. Stormy Weather 10. Love For Sale 11. Cry Me A River 12. Love Me Like A Man 13. A Song For You
"COLORS OF CHRISTMAS" (1998)
"COLORS OF CHRISTMAS"  A Jazzy Holiday Album
CD ON SALE NOW!!!
Regularly $15... 
NOW ONLY $9.99 at Cami's website only!
(including tax and shipping)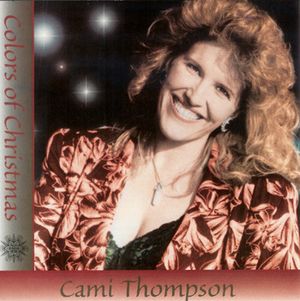 A delightful and heart-warming studio recording featuring Cami's unique jazzy arrangements of classic Holiday songs, with trio, quartet, and some horns. Her voice will brighten your season, and her spirit will surely raise yours, all year-round. Recorded Nov. 3-11, 1998 at Santa Fe Studios, Reno  
Runs 48 mins.
Available on CD & cassette, and now on iTunes for digital downloads (full price online).
SONG LIST:  1. I'll Be Home for Christmas    2. Do You Hear What I Hear 3. Sweet Little Jesus Boy    4.  Nature Boy    5. The Color of Christmas (by Cami Thompson)    6. White Christmas/ The Christmas Song          7. Little Drummer Boy    8. (Oh!) Silent Night    9. Winter Wonderland/ Let It Snow    10. Silver Bells    11. Deck The Halls    12. Have Yourself a Merry Little Christmas
 NOW ONLY $9.99 at Website (including tax and shipping) 
DIGITAL: Buy this CD or songs from it on Apple iTunes:
DIGITAL: Buy this CD or songs from it on PayPlay:
_